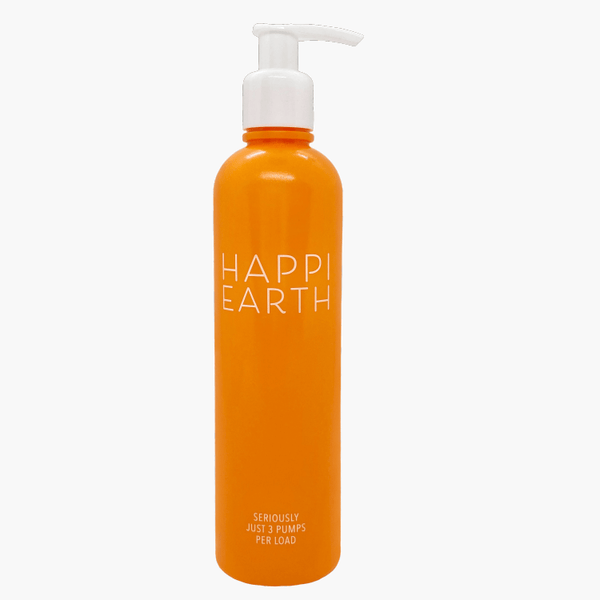 Our Happi pump bottle is made from sugarcane, a renewable source that is 100% recyclable.


Volume: 250ml

Just 3 pumps per standard wash load (approx 8kg).

Seriously, just 3 pumps… as there is no unnecessary water or fillers added.


}
Quite happy with Happi!
"The more I used it, I could see that the natural ingredients in it where making the clothes cleaner without the chemical effect and it is definitely better for kids sensitive skin! Definitely recommend it!"
brightened my sheets!
"I don't know what's in this Happi Earth but omg! I had some white sheets that were going a dreadful yellow shade, I was going to ditch them but I thought I'd try Happi, and now they are folded and back in back in my linen cupboard. They are so white and crispy and fresh looking. Love love love it thank you!"
A YES FROM ME
"Happi ticks all the boxes for me. Cleans whites and colors so well, smells divine and reduces my environmental footprint. Our 400wash pouch is going to last my boyfriend and I for practically the next two years! Incredible product, highly recommend. "
Huge Money Saver!
"I bought this product, fully expecting to utilise the full money back guarantee because I didn't beleive it would clean as well - yes it does! Huge money saver as as saving huge amount of package waste."
Sarah K, Australia
More Affordable
Did you know that most laundry liquids contain around 90% water? Big bottles big value right? Wrong! The average supermarket brands are around 30c per wash.
With 400 washes in one pouch, Happi earth is just 25c per wash and is delivered right to your door!
Better For The Environment
Most laundry detergents contain ingredients that have been shown to pollute & harm marine life.
Happi is 100% organic, all natural and environmentally friendly so you can save money while saving the earth.
Better Performance
This highly-concentrated, powerful blend will leave your clothes smelling fresh and give them the REAL clean they need.
When tested against Australia's leading laundry brand, Happi performed 61% better (on an average across 8 independent lab tests).
PERFORMS 161% BETTER WHEN TESTED AGAINST LEADING BRANDS
Customer Reviews
Write a Review
Ask a Question
30 day risk-free trial
We know that it might take you a few washes to fall in love with Happi and so you have 30 days to decide. If it's just not for you, we will give you a full refund.
Frequently asked questions
How Does Such A High Price Make Happi More Affordable?
Unlike most laundry detergents that contain up to 90% water just for a higher perceived value, Happi contains no unnecessary water and is a pure concentrate. One litre (34 fl oz) of Happi Laundry Liquid will last 400 washes which works out to be on average between 20% - 60% less expensive per washing load.
How Much Liquid Do I Use For Every Happi Wash?
The average washing load (around 8kg) with Happi only requires 2.5ml (0.85 fl oz) which is equivalent to half a teaspoon. That's right… half a teaspoon! Or alternatively, if you are using the Happi stainless steel bottle you will only need 2 pumps.
Does It Work On Front And Top Loader Washing Machines?
Yes, Happi works in both front and top loading machines. For a front loader, just add the Happi Laundry Liquid into the washing machine dispenser. For top loaders, we suggest waiting until the machine is full and dissolving Happi in a cup of water before adding it to your wash.
Is The Happi Pouch Recyclable?
The Happi pouch is made from kraft paper with a fine BPA free plastic inner lining to prevent leakage. For this reason it is not recyclable. However, to keep our earth smiling and reduce plastic laundry pollution, we have designed the pouch so that it can be reused. Once you've gone through your 400 Happi washes, you can send the pouch back to us so we can sterilise and refill it for you. And yes, when you return it, there will be a benefit to you as well.