Only $0.25 Per wash
Over 400 Washes

One Tree Planted
For every purchase

the problem
Most laundry detergents contain ingredients that have been shown to pollute water & harm marine life.
Did you know that they contain around 90% water?
This unnecessary production, that is designed to create more perceived value, is creating irreversible environmental harm.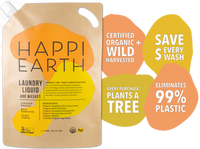 the solution
Happi is 100% organic, all natural and
environmentally friendly so you can save
money while saving the earth.
Just one pouch is packed full of highly
concentrated liquid with up to 400 washes at
just $0.25 per wash.
Shop Happi
no need to compromise on performance
When tested against Australia's leading laundry brand
Happi performed 61% better (on an average across 8
independent lab tests).
This highly-concentrated, powerful blend will leave your clothes smelling fresh and give them the REAL clean they need.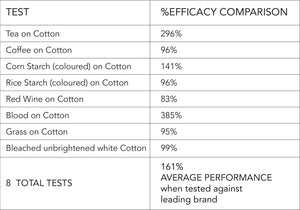 what our customers say
Nairi & Alex
STUNNED BY HAPPI

We're stunned at how clean, fresh & soft Happi leaves our washing!
Marnia
LEAVES MY CLOTHES CLEAN & SMELLING FRESH

The highly-concentrated blend leaves my clothes clean & smelling fresh.
Courtney
KEEPS CLOTHES BRIGHT & FRESH

I'm so happy with the results. It keeps cloth nappies bright & fresh.
Hannah
SMELLS AMAZING

Tough on stains & gentle on clothes, & it smells amazing!
Corrine
SAVES MONEY AND MOTHER NATURE

Not only do I save money & trips to the supermarket, but also Mother Nature!
Kellie
NO NASTY CHEMICALS

It makes my life so easy with only 2 pumps & no nasty chemicals!

 
Coco
GOOD RESULTS

I've had nothing but good results! My washing looks & smells so clean.
Lily
LAUNDRY CAME OUT CLEAN  & FRESH

Very impressed! My laundry came out smelling clean & fresh.
Bec
GREAT FOR SENSITIVE SKIN

Made from the best organic ingredients & great for sensitive skin!
Chrissie
EARTH FRIENDLY



Earth friendly, nice smelling & cleans better than anything I've used previously!
JIM KUENY
PERFORMED AS WELL, OR EVEN BETTER

Happi performed as well, or even performed better. I am one Happi customer for life!
JENNY MATHEWS
BEETROOT STAINS GONE

3 day old beetroot stains - GONE! Very Happi.
DACE OSE-ABEY
IT CLEANED PERFECTLY

Normally I have to put up with stains and soak. this time it cleaned perfectly on a 40 degree cycle. Winning!!!
ROSEMARY COMPAGNO
WONDERFUL FOR WHITENING

Happi is wonderful for whitening. Very happy with the results.
DAWN GREWCOCK
A TINY HINT OF FRAGRANCE

My clothes are very clean with a tiny hint of fragrance. This product brings a unique lightness and cleanliness to my laundry.
SONJA COOPER
CAME OUT A LOT BRIGHTER

All my clothes & towels definitely came out a lot brighter than usual...I'm sold!
Suzanne Scott-Maxwell
SO EXCITED

Don't think I've ever been so excited and enthusiastic about a Laundry product before!
SHERRIE TURNER
TOWELS ARE BRIGHTER

I swear my towels are brighter for the first time in ages, just from a regular wash in Happi.
Ange (St Kilda, AU)
MY CLOTHES HAVE NEVER BEEN BRIGHTER

An amazing product, not only do you help the environment from all those nasty chemicals and plastic packaging, but you also save money! For anyone who is deciding to make the switch, its a no brainer. And to top it all off they plant a tree on your behalf. Awesome stuff guys I'll be recommending it to everyone!"
no risk, happi laundry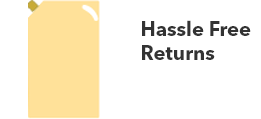 but what about the packaging?
Our happi pouches are made from kraft
paper that has a fine plastic lining to prevent leakage.
they've been designed to be reused in
order to reduce plastic pollution. when you
return your pouch to us, we will sterilise
and refill it!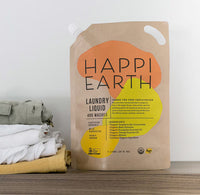 Frequently asked questions
What organic ingredients are in happi.earth?
ALL ingredients are Certified Organic. Happi contains the following ingredients: Organic soapberry nut concentrate. Organic bean glycerine. Organic sugarcane Ethanol. Organic Eucalyptus & Organic Orange Essential oils…..and that's it! No hidden nasties, no toxic ingredients and no harmful GMO ingredients.
Why is Happi food-grade Certified Organic if it's not actually food?
With so much green-washing going on around the globe, our biggest point of difference is the fact that Happi is Certified Organic to food-grade standards. This means you can be assured that our laundry liquid is safe, GMO-free and actually organic, unlike so many alternatives.
Being in the organic industry for over 20 years, we believe it is important that the general public has a way of easily seeing the difference between products that are really organic vs merely labeled organic for marketing purposes.
What makes the Happi packaging environmentally conscious?
With our unique formula, we have packed an entire years supply of washing into just one pouch, replacing about 13 plastic bottles from our environment every year, per household. That's 13 less bottles being produced and discarded into our oceans and landfill every year!
The pouch is made from kraft paper with a fine BPA-free plastic lining to eliminate leakage. Although the Happi packaging isn't 100% plastic-free, it is a fantastic alternative to the regular supermarket brands packaged with heavy plastics. What makes Happi stand out even more is the fact that once you've gone through 400 washes, you can send it back to us so we can sterilise and refill it.
How will people go about getting the money-back guarantee?
We believe in giving our customers a kis (keeping it simple) when it comes to our guarantee, so here it is: Love Happi or receive a 100% Refund, Exchange or Credit within 30 days of the delivery date.
If you would like a refund, exchange or credit for any reason, we would love to know why and request your permission to ask some questions in order to improve our product or customer service. So that nothing is wasted, we may ask that the product is either returned to us, at our cost, or it is given to someone in need (Possibly a homeless shelter).

Happi-ness, it's our goal
How To Return The Happi Pouch?
Your Happi pouch is refillable!

Return your pouch to be refilled and create a waste free laundry routine.

Return your pouch to:

HAPPI EARTH
Unit 9,
7 Activity Crescent
Molendinar
QLD 4214

Please include your Name and if possible your original Order number.

In appreciation, you can then order Return & Refill pouch with a 20% discount at $79.98.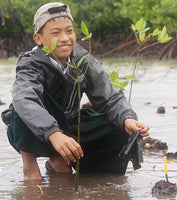 1 purchase = 1 mangrove tree planted
 Mangrove trees have extremely high rates of carbon sequestration - 5 times that of a rainforest tree!
This means they actively remove carbon dioxide from the atmosphere. They are also important breeding areas for numerous marine species like sea turtles, and they improve air quality by filtering pollutants.
Shop Happi
#happiearthmovement